Nvidia CEO: 'We're seeing an acceleration in demand... because of generative AI'
While the broader tech industry continues to deal with declining sales and slowing consumer demand, graphics giant Nvidia (NVDA) is going in the opposite direction.
According to founder and CEO Jensen Huang, the company is seeing demand for its platforms increase as customers seek to get in on the explosion in artificial intelligence.
"We are seeing an acceleration in demand," Huang told Yahoo Finance Live during an interview Wednesday. "We're seeing an acceleration of demand for our DGX AI supercomputers. We're seeing an acceleration of demand for inference, because of generative AI."
Fresh off of delivering the keynote address at Nvidia's GTC developer conference on Tuesday, Huang said that AI has reached an inflection point where the technology is both accessible and easy to use. And the immense interest in OpenAI's ChatGPT has only pushed the interest in the technology further.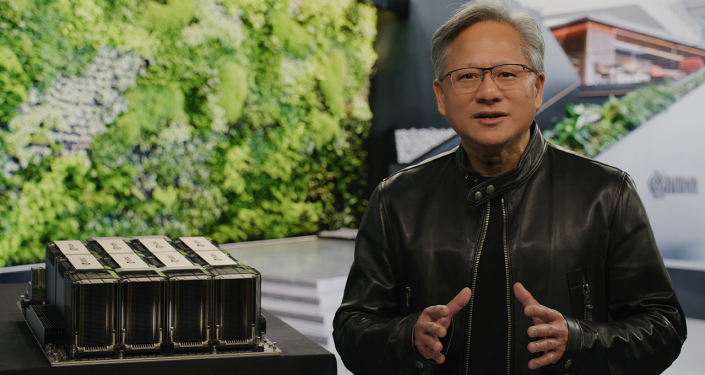 "In just a couple of months, [ChatGPT] reached 100 million users, and the number of startups, the number of applications that you're now starting to see on generative AI is just growing extraordinarily," Huang said. "So this is definitely the beginning of a new computing platform."
Nvidia has been banking on the growth of the AI industry for years, and it's paid off handsomely for the company. The chip maker's data center arm, which includes its AI efforts, grew from $2.98 billion in annual revenue in 2019 to $15 billion in 2022. The business now makes up the lion's share of Nvidia's sales, supplanting its gaming division, which served as the firm's breadwinner for years.
Over the past 12 months, Nvidia's stock price has easily outpaced its industry peers. While shares are only up 2.5%, the company is well ahead of the broader S&P 500, down 12.7%; AMD (
AMD
), off 14.9%; and Intel (
INTC
), which has dropped 41.8%.
While Nvidia is riding high on AI growth, Huang said that the company also offers an opportunity for its customers to save cash at a time when companies are looking to reduce their spending.
"Everybody wants to do more, but they have to find a way to do it with less," Huang said. "Accelerated computing is really the best path forward to do so. The ability to roll up your sleeves and re-factor your software…and once you re-factor that software, you could save extraordinary amounts of money."
The use of GPUs, Huang added, could help companies cut down on the amount of power they need compared to CPUs, allowing them to both save on computing and lower their carbon footprint.
With the use of AI only expanding further into various industries, Nvidia and its ilk appear to be well positioned moving forward.