The Quadro Sync solution, based on the Quadro Sync II Sync card, can be synchronized to up to 32 4K display outputs using one or more systems, even with full 3D stereoscopic output without image artifacts.
---
Product parameters
| | |
| --- | --- |
| Number of gpus on a single card | 4 |
| Number of Quadro Sync II cards per system | 3 |
| Number of synchronous Gpus in the system | 8 |
| The number of monitors or projectors in a system | 32 |
| The number of displays or projectors equipped with Quadro Mosaic technology in the system | 32 |
| Computer main board interface | PCIe |
| Stereo display support | √ |
| Projector overlap support | √ |
| Windows Management Instrumentation (WMI) support | √ |
Operating system requirements
Windows 10(64bit recommended, 32bit supported)
Windows7(64bit recommended, support 32bit)
Linux(64bit, 32bit support)
---
NVIDIA GPU list supported
RTX A6000




Quadro RTX 8000




RTX A5000

Quadro RTX 6

000




RTX A4000




Quadro RTX 5

000




A40




Quadro RTX 4000 Quadro GV100
---
Advantages of Quadro Sync
Multi-projector system or video wall does not have any image artifacts and does not affect performance
Multiple input display device
(for example, 4K projectors or displays) have consistent inputs
The stereoscopic 3D display in multiple systems worked fine
The display or projector is aligned with the external clock source
---
MOSAIC
Multi-screen combined output with ultra-high resolution

The Quadro Sync solution supports NVIDIA MOSAIC multi-screen display technology. MOSAIC is a technology that combines multiple displays or projectors into a single virtual display output.
MOSAIC created the projector overlap area by subtracting the area behind the screen bezel to create a single unified display surface. Up to 32 displays can be displayed as an operating system or one of any applications running on it with the help of the dual Quadro Sync II Sync card and supported Quadro Gpus.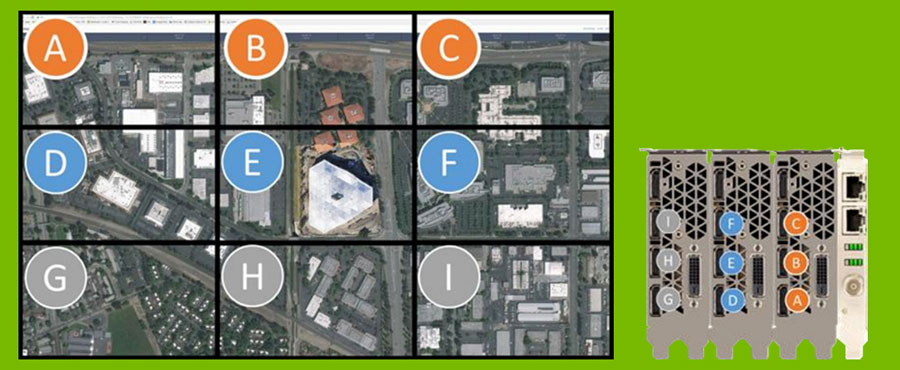 Quadro Sync
Build infinite rendering extension display output

The NVIDIA Quadro Sync solution, based on the Quadro Sync II card, enables the deployment of ultra-high resolution display systems in a flexible and scalable manner. This allows users to drive a video wall of up to 32 4K displays to broadcast images with a single system. At the same time, flight simulation programs can be upgraded from high-definition resolution projectors to four-way input 4K projectors using the same size visualization cluster. For research LABS, a single system can create a 3D display wall with up to 32 displays. This will enable scientific research, design rendering and even industrial research.