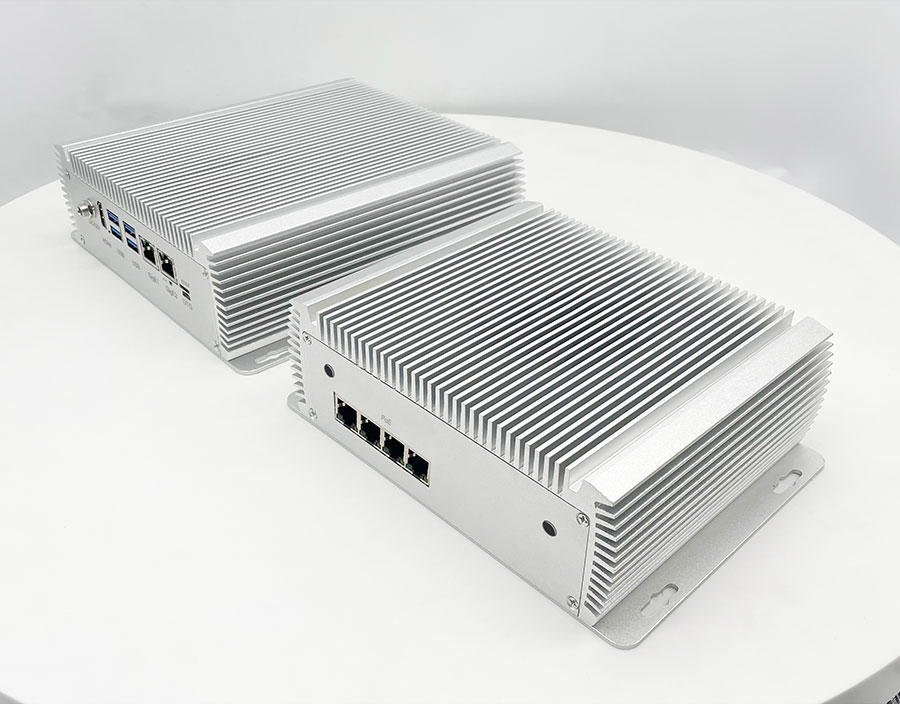 The 11F2E6 has built-in NVIDIA® Jetson Orin NX/NVIDIA® Jetson Orin Nano series core modules. The whole device adopts wide temperature model and adopts high reliability power supply application scheme. The input power supply has overvoltage and reverse polarity protection functions. Through the built-in minipice and M.2 can carry hundreds of functional modules to achieve further expansion of system functions, can carry 4G/5G communication module, wifi, Bluetooth module, various specifications of video acquisition/output module, AD acquisition module, multiple serial port module, sound acquisition/output module, multifunctional IO module and so on. Scalable POE gigabit network, compatible with industrial automation and vehicle-road collaboration scenarios.
The industrial computer comes with a 128GB NVME hard drive by default
If you need to replace other sizes of hard disks or expand other interface modules, please contact our sales staff in advance.
Size:202mm x 206mm x 64.5mm
Weight:2kg
Compare NVIDIA® Jetson Orin NX and Jetson Orin NANO Specifications
Module

Orin NX 16GB

Orin NX 8GB


Orin Nano 8GB

Orin Nano 4GB


AI Performance




100 TOPS

70 TOPS

40 TOPS

20 TOPS

GPU

1024-core NVIDIA Ampere architecture GPU with 32 Tensor Cores




512-core NVIDIA Ampere architecture GPU with 16 Tensor Cores




CPU

8-core Arm® Cortex®- A78AE v8.2 64-bit CPU2MB L2 + 4MB L3




6-core Arm® Cortex®-A78AE v8.2 64-bit CPU1.5MB L2 + 4MB L3




Memory

16GB 128-bit LPDDR5




102.4GB/s




8GB 128-bit LPDDR5




102.4GB/s




8GB 128-bit LPDDR5




68 GB/s




4GB 64-bit LPDDR5




34 GB/s




Storage

(Supports external NVMe)




Video Encode

1x 4K60 (H.265) 3x 4K30 (H.265) 6x 1080p60 (H.265) 12x 1080p30 (H.265)




1080p30 supported by 1-2 CPU cores




Video Decode

1x 8K30 (H.265) 2x 4K60 (H.265) 4x 4K30 (H.265) 9x 1080p60 (H.265) 18x 1080p30 (H.265)




1x 4K60 (H.265) 2x 4K30 (H.265) 5x 1080p60 (H.265) 11x 1080p30 (H.265)




Networking




1x GbE




Power




10W - 25W




10W - 20W




7W - 15W




7W - 10W



The Interface Display

11F2E2 Industrial computer network port POE function is optional. If you need to expand the function, please contact us
NAME

Description




LED

Carrier board power supply status indicator light




USB

Dual layer Type-A USB 3.0 connector and downward compatible




HDMI

Type A HDMI display and output port




REC

Recovery button, Press and hold the Recovery button to power on the device to enter the recovery mode




GigE1

GigE2

GigE1 and GigE2 in front are standard 10/100/1000M adaptive RJ45 network ports (expandable and POE powered).(The POE function is not standard)




PoE

4 POE network ports (POE function is not standard)




OTG

When equipped with ORIN NX/ORIN NANO module, it is used for system burning and OTG function output.




SIM Card

Nano type SIM card connector(It must be used with a 5G module, which is nonstandard)




Power

DC :12V~24V