product description:
The Y-C6 is a low-cost, small form factor carrier board for NVIDIA® Jetson™ Xavier NX, TX2 NX, Nano series core modules, suitable for compact deployment needs. For industrial deployment applications, the main interface is designed for electrostatic safety protection, and a high-reliability power supply application scheme is adopted. The input power supply has overvoltage and reverse polarity protection functions, and has a wealth of external interfaces. All board devices use wide temperature models. . In order to facilitate the design of the casing structure, the important interfaces of the Y-C6 carrier board are designed to be led out on one side, and the height limit design on the core module side is more convenient for fanless conduction heat dissipation design.
The Y-C6 carrier board can carry hundreds of functional modules through 2 MiniPCIe connectors (including USB2.0 and PCIe X1 signals) to further expand system functions. It can be extended to 4 full-speed USB3.0 signals, 4 Gigabit Ethernet signals, 2 full-speed SATA signals, and can also be equipped with 4G communication modules, video capture/output cards of various formats, AD capture cards, multi-serial port cards, Sound acquisition/output card, multi-function IO card...
Product Features:
1 x Full Speed USB3.1 TypeA Connector
1 x Micro USB Connector
1 x Gigabit Ethernet (10/100/1000 BASE-T) RJ45 connector
1 x HDMI 2.0 port (Max 6Gbps, 24bpp, 4096x2160@60Hz)
1 x CR1220 type RTC battery holder (battery not included)
1 x Working Indicator
1 x Fan Control Connector
1 x micro TF card connector
1 x Nano type SIM card connector
2 x Full Length MiniPCIe Connectors
2 x 2 Lane MIPI Camera Interface FPC Connectors
1 x CAN bus interface with onboard transceiver
2 x RS-232 level serial ports, 1 3.3V level Debug serial port (UART)
3 x 3.3V bit programmable GPIO, 1 bit programmable GPO with 3.3V strong drive capability
1 x 3.3V level SPI signal, 2 groups of 3.3V level I2C signal
1 x 30pin 2.0mm pitch multi-function expansion pin connector (including GPIO, I2C, SPI, USB, RS-232 and other low-speed signals)
Anti-drop power terminal
Power on automatically
Onboard Reset and Recovery buttons
Board size: 120mm×80mm×18mm
Power requirements: DC +9V~+24V
Working temperature: -40~+85℃
Weight: 78g
*When used with the Jetson Nano module, the CAN bus interface function is not available, and the PCIe signal on 1 MiniPCIe connector is not available.

板载接口说明图: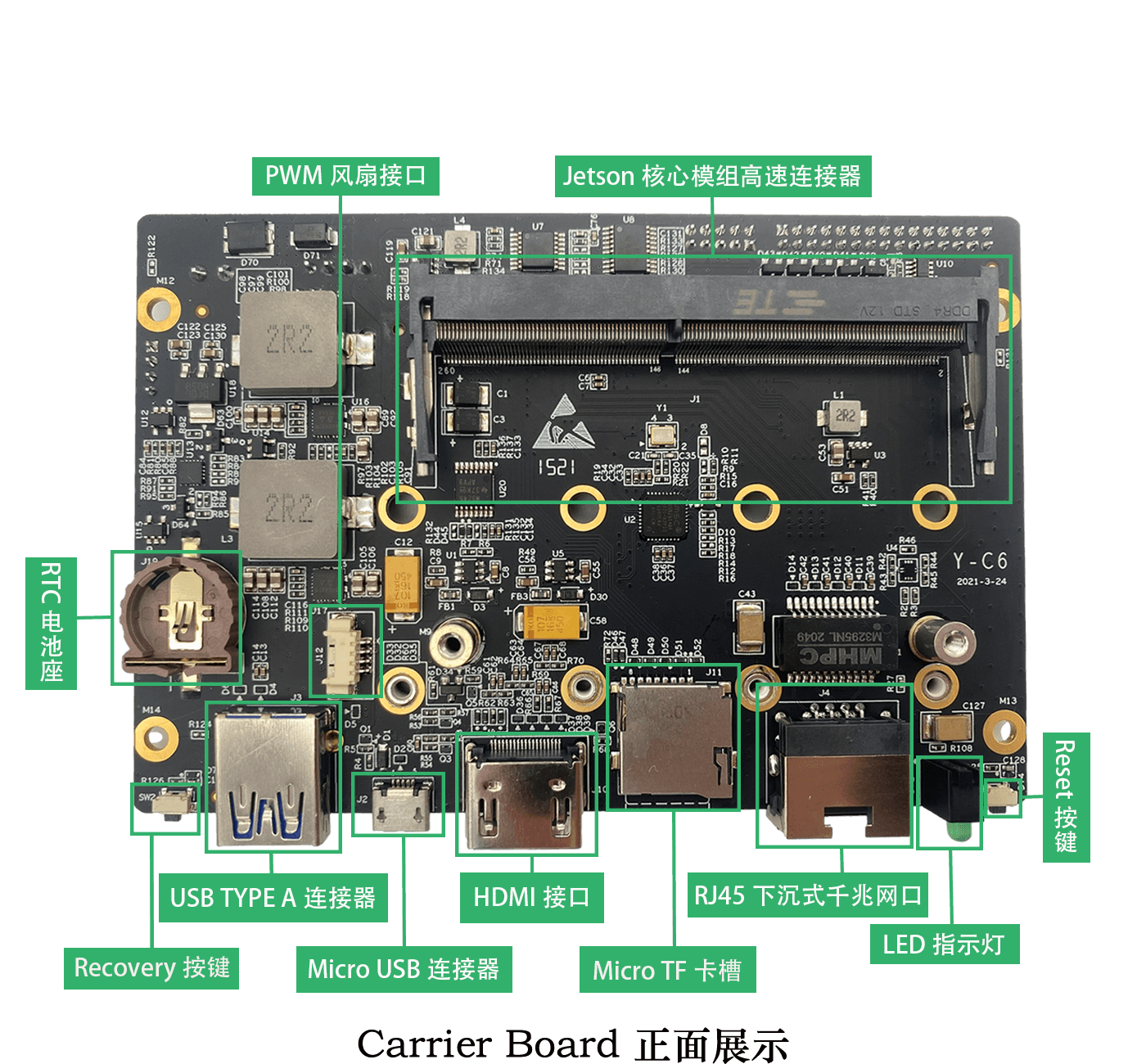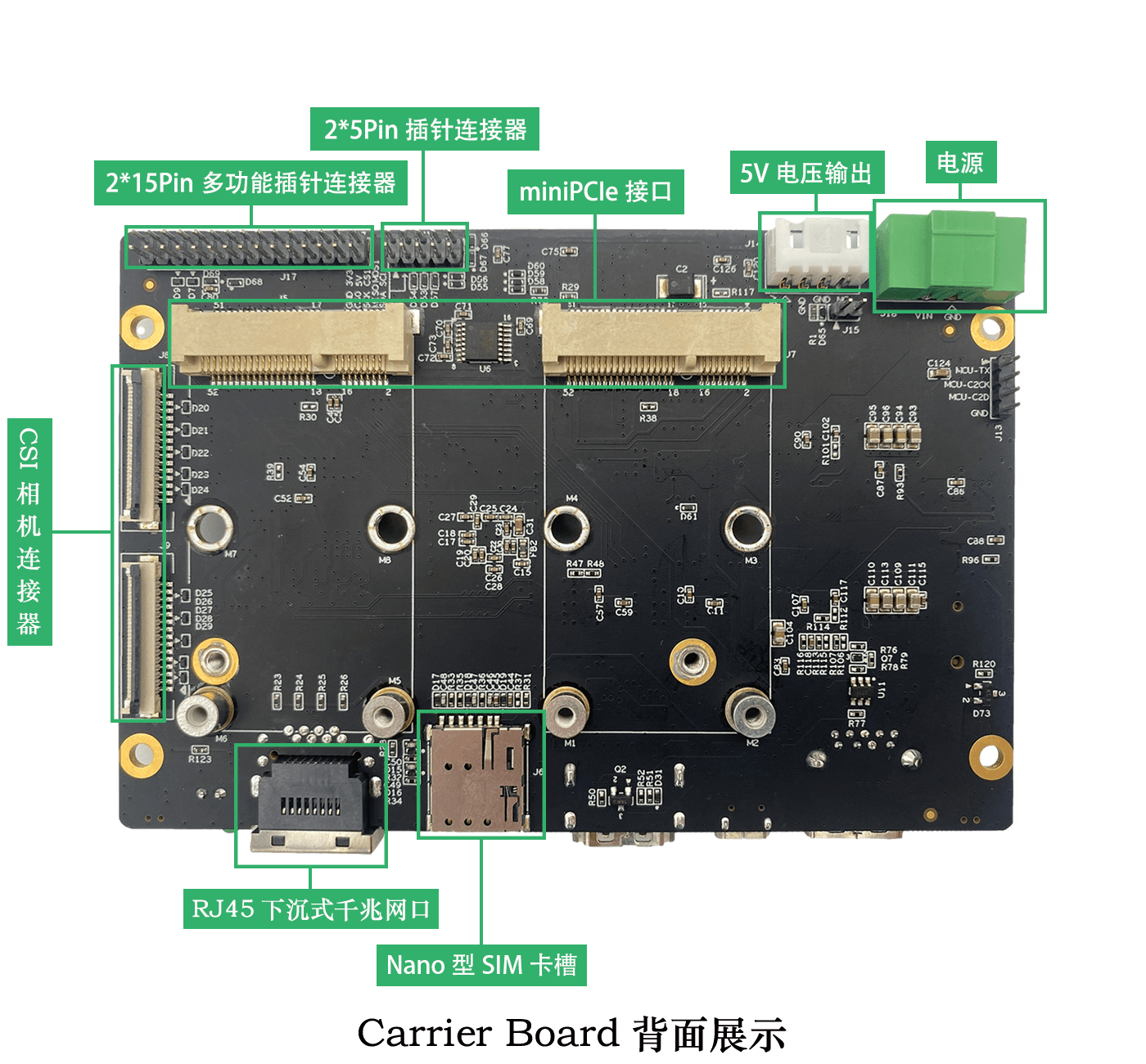 product description: